All photographs by Isabel Val (• fb), taken during the workshop co-organized with Lilla Magyari at Auróra, in Budapest,
in partnership with the performing duo AVOEC (Luiza Moraes and Lori Baldwin • fb), who also posed as moving models. The workshop has been followed by a little exhibition of the work done together.
---
MAIN POINTS INSPIRING THE FLOW:

• THE ACT OF SEEING based on the book "Drawing on the Right Side of the Brain" by Betty Edwards;
• EXPERIMENTING WITH COLOURS AND DIFFERENT MATERIALS;
• STYLISTIC RESEARCH and importance of the idea;
• THE CREATIVE PROCESS;
• BASIC TECHNICAL KNOWLEDGE.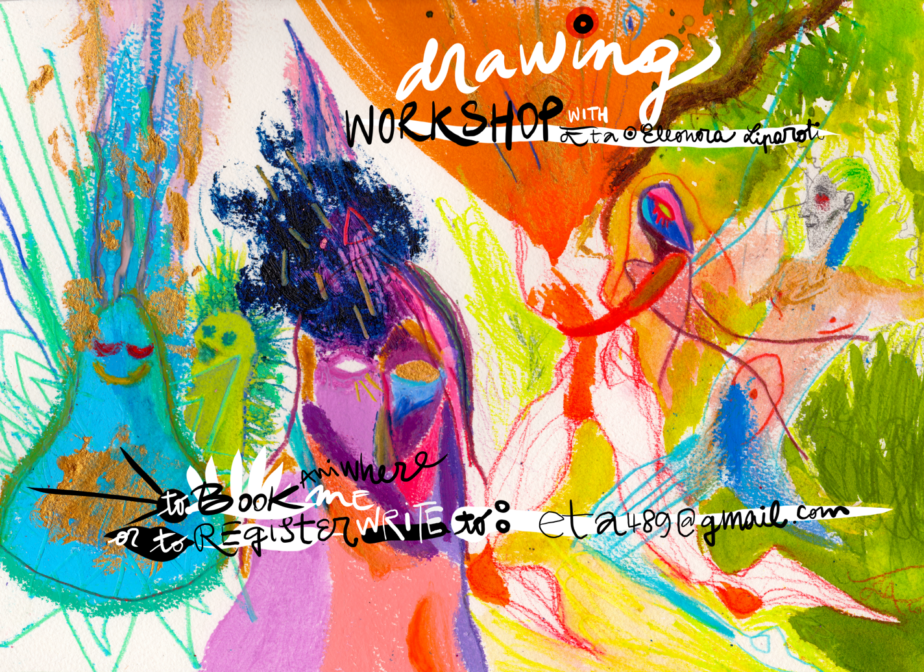 ARE YOU INTERESTED?
To organize a workshop in your area, or to ask anything, please write at:
eta489@gmail.com
---
✩ THE WORKSHOP IS OPEN TO ANY LEVEL ✩

and mostly designed for those who always wished to draw but always felt like they "couldn't"
and for those who feel like sharing their creative process in a playful environment.
---
✩ I PROVIDE ALL MATERIALS ✩
• participants can bring their owns, but they don't need to •
---
» » » » HOW TO KNOW IF THIS WORKSHOP IS FOR YOU? You might want to come if:
✔ …you were used to believe that only "talented" people can draw and you always wished to have that talent (everybody can learn to make realistic drawings, and it is possible to awake the creative process);
✔ …you want to give yourself a way to express emotions and ideas;
✔ …you want to have fun like a jungle kid;
✔ …you're not particularly interested in drawing, but you want to stimulate different parts of your brain (increasing creativity helps problem solving and decision making, it helps to reconnect with ourselves and to heal – potential positive consequences are just endless);
✔ …you are, or were, used to draw, but you want to get inspired by a playful and experimental attitude, perhaps desiring to wake up a certain momentum;
✔ …you have a creative block;
✔ …and, well, maybe also if you just feel like, and you have no clue why!
---
IF YOU WANT TO COME PREPARED
You can take this workshop very easy and pop there as you are, doing nothing before, and just holding this experience for your future. This is absolutely fine. Listen to your inner child, don't stress. Don't stress about not being stressed. It's normal to feel some stress, but breathe and take it easy, especially if drawing sounds to you like a big deal. Or take that stress or those fears, and turn them into stimulating energies.
If your inner child feels very dedicated, though, there are many things that you can do:
Bring a collection of images that inspires you (images of any –any!– kind).
Bring a collection of drawings and paintings that inspire you, or which might show something you'd like to do. Is Basquiat that artist you can't stop looking at because it just says what you feel? Is that artist Raphael? Frida Kahlo? Georgia O'Keeffe? Is Roger Dean? Or is that even an artist who didn't draw, yet who you feel close? Cool! Share!
Bring any previous work of yours you want to look at together (privately or with the whole class).
Bring your most challenging doubts and your most burning crisis! Bring your heart and drop your fears. Or bring those as well, maybe you'll get rid of them throwing them on paper. Let the abyss talk, too.
And bring some of your own material and tools, if you want, especially if you already feel well with that.
---
.*)  Magic is everywhere  (*.